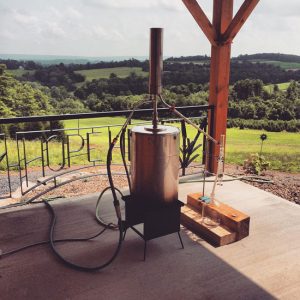 At the core of what we do is essential lavender oil produced from our plants
We share our farm with lavender enthusiasts during business hours.  Read below to see some of the things you can experience at Hope Hill Lavender Farm.
Essential Oil
Essential Oil is extracted by steam distillation from the fresh flowering tops. In order to get the best results, this has to be done at the hottest part of the day. Our process ensures the highest quality essential oils are extracted. And, fun fact, it takes eleven pounds of lavender flowers to make just one ounce of lavender essential oil.
Lavender
Pure Essential Oils contain many different components and things made by nature that cannot be duplicated artificially. We have learned on our journey about the benefits of using naturally scented products and avoiding a product that lists fragrance or perfume to scent the product.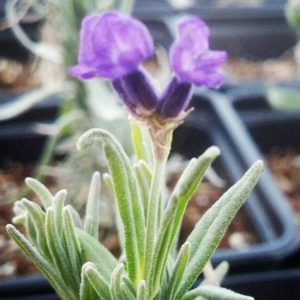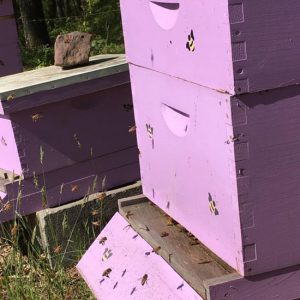 Bees
We keep bees at Hope Hill Lavender Farm. Seasonally we have our raw honey and take pride in the superior quality of the raw honey. We are a certified Pennsylvania Pollinator Friendly Garden.
Hand Harvested Lavender
All of our lavender is hand-harvested with extra care taken to ensure quality every step of the way. Most of the lavender we harvest is used in the distillation of essential oils. Lavender is also taken to the drying shed where it is bundled and hung upside down to be dried for future use in dried bouquets, sachets and culinary.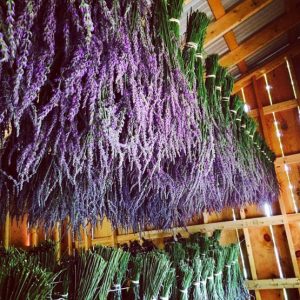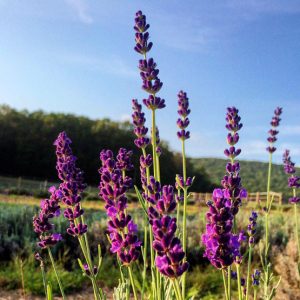 Lavender Cultivars
On the farm, we currently have several different cultivars of lavender. Lavender must be propagated through cuttings to be true to its cultivar. We propagate our own plants here on our farm to keep everything we make locally sourced and organically sustainable.
Farm Animals
We have two rescue horses, as well as a pony. We have miniature Mediterranean donkeys that came to us secondhand from another lavender farm as well as five laying hens. Our farm animals will be introduced at the end of our farm tour for their safety.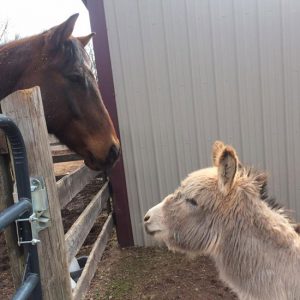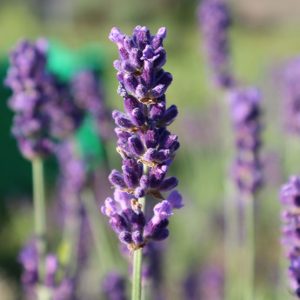 Lavender
Lavender is an herb such as parsley, sage, rosemary and thyme. It is a member of the mint family with a lovely scent and unique flavor.  Lavender is a summer blooming plant starting with flowers mid June through July.  It can be used in the kitchen in many ways, from seasoning salmon to the main ingredient in various sweet concoctions. See our recipe page for some tasty ideas.
Our Lavender Plants
The lavender plants propagated at our farm are sold seasonally, which is typically May through July. We do not ship plants.
Lavender plants available for purchase at our farm:
French cultivars:  Cathy Blanc, Edelweiss, Fat Spike, Gros Bleu,  Grosso, Hidcote Giant, Impress Purple, Provence, Super.
English cultivars: Buena Vista, Croxton's Wild, Folgate, Hidcote, Mailette, Melissa Lilac, Melissa Pink, Purple Bouquet.           Pricing: $5/4inch pot
Planting Lavender:
-Adequate drainage
-Full sun
-Poor rocky soils the norm for lavender's native home, Mediterranean region
-Sandy loam-balance of sand, clay, and silt (best for lavender) -Rocky soils with more sand have best drainage (out of lavender book).
-Neutral pH to Alkaline soil preferred
-Lavender does not need fertilization to thrive.
-Over-watering can be a problem, 4" pot when planted in the ground and no rain- water q 3-5 days.
-Mulch kept away from base of plant
-Pruning is necessary, cut two" above woody part of plant. Fall typically 6-8 weeks before frost.
Pruning Lavender:
First Year – The first flowers that appear should be trimmed. This will help put more energy into the roots of your plant.
Second Year- Plants come out of dormacy a little later, typically late May. Can prune if needed in spring after danger of frost. In fall, after plant is done for the season (lavender is a summer blooming plant) prune several weeks before first frost in your area should prune into mound shape. Prune two inches above woody part of stem.
Third Year (mature plant)- Typically, we prune in fall several weeks before first frost into mound shape. Prune two inches above woody part of stem.